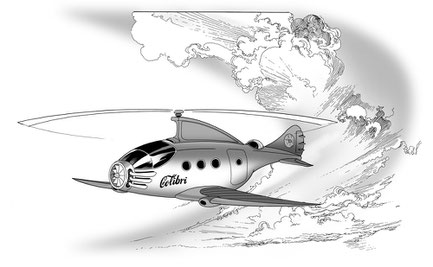 "Doc Wilde and the Frogs of Doom is an adventure yarn in the old tradition. It gets that reading is an intellectual activity, and that an adventure, to be really good, has to engage the reader's brain. I loved this smart book!"
—Daniel Pinkwater, author of
The Neddiad and The Yggyssey
"Written in fast-paced, intelligent prose laced with humor and literary allusions ranging from Dante to Dr. Seuss, the story has all of the fun of old-fashioned pulp adventures. A tale 'terrifying and dark, of indescribable horrors and eldritch mysteries,' this is sure to be Wilde-ly popular, and readers will anxiously await future installments."
—Kirkus Reviews
"Doc Wilde and The Frogs of Doom is a pulp-pounding ribbiting croaker of a tale!"
—Will Murray, author of
Doc Savage: Skull Island
"This is a book to be read under the covers, with a flashlight, way past bedtime. It is old-school entertainment and proud of it."
—Quentin Dodd, author of
Beatnik Rutabagas from Beyond the Stars
"Daring adventure! Dastardly villains! Climactic cliffhangers!...Byrd updates the old movie serials genre, populates his story with an adventure-seeking family that brings to mind superhero versions of Steve Irwin and his children, and dusts the whole thing with Indiana Jones–style searches for magical artifacts. Oh, and he adds frogs, lots and lots of frogs..."
—Booklist
"Doc Wilde and The Frogs of Doom is a fun pulp adventure that pays homage to Doc Savage while targeting the tweener crowd. The story line is fast and lighthearted as the heroes battle mutant fogs. With literary quotes ranging from Seuss to Lovecraft and beyond, Tim Byrd avoids dumbing down his novel. Young readers will relish the escapades of the Wilde family and friends as they struggle to save the world one croak at a time."
—Genre Go Round
"The action bounces breathlessly from crisis to crisis, with the Wilde family's scientific gadgetry and arcane skills in constant demand...the book's breakneck pacing and broad humor will appeal to middle-grade adventure fans."
—School Library Journal
"Doc Wilde and the Frogs of Doom doesn't really have one main character. It's the story of a family...The basic premise behind the book is very clever, and the quality of the writing is excellent."
—Gail Gauthier,
author of Happy Kid!
"Action adventure is just the tip of the iceberg because this book is actually crammed full of interesting and, dare we say it, educational tidbits...Parents, don't be surprised if you find yourselves enjoying this fun pulp fiction just as much as your kids."
—Sandy Amazeen, Monsters and Critics
"Doc Wilde and his family are heroes in the classic sense: smart, athletic, strong, well-traveled, and good-looking. The author presents these over-the-top characters with a bit of subtle humor..."
—Travis Jonker, 100 Scope Notes
"This book reminds me of the old fashioned adventure shows from the 1930's and 40's like Tarzan, Superman and Flash Gordon...I loved the relationship between Dr. Wilde and his kids. Concerned and caring, but also trusting them to be able to take care of themselves..."
—Stephanie A. Johnson, film producer